Elecare and Neocate are both amino acid-based formulas, so there is no dairy in them at all. There are slight ingredient differences; Elecare contains soy oil, where Neocate does not, and Neocate and is non-GMO, Elecare is not. Some babies tolerate one formula brand better than the other.
Amino acid-based formulas are an alternative to traditional milk-based baby formulas for babies and toddlers with cow's milk protein allergy, other severe food allergies, or severe eczema. These amino acid or elemental formulas don't contain any dairy at all, and instead are created using corn syrup solids that have already been broken down for babies to be able to digest them easily.
There are several great brands of amino acid-based, hypoallergenic formulas, but how do you choose which one will work best for your baby?
Some of it will come down to trial and error, and what works for one baby may not work for another, but you should know that there are some differences between the different brands. Be sure to check out my overview post that compares a ton of different elemental formula options as well.
*Important Note: in 2022 there was a recall on cans of Elecare infant formula, but as of 6/2023, Abott is making Elecare again and you should be able to find it in stores and online again.
Elecare Vs. Neocate
Elecare is made by Abbott, the same company that makes Similac. Elecare is their product that's made for babies with severe food intolerances or allergies to dairy. Elecare does contain soy oil, but it's already broken down during the manufacturing process so that most babies with soy intolerances should be able to tolerate it. If your baby has an IgE soy allergy, be sure to check with your doctor before trying Elecare.
Neocate is made by Nutricia, a company that specializes in formula and food products for those with severe food allergies or health challenges that require specialized nutrition. Neocate is Halal and Kosher, and does not contain any soy. Neocate also comes in two different infant varieties, with the Neocate Syneo variety containing prebiotics and probiotics to help babies develop healthy gut functions.
Both brands of formula have a version made for older babies who still need the extra nutrition from formula, and these Junior varieties come in several different flavor options. Both formulas are available online and in stores, and as of 2023 their pricing per can is similar. For most families it really comes down to which formula their babies can tolerate the best.
Elecare
Neocate
Manufacturer
Abbott
Nutricia 
Amino Acid-Based?
Yes
Yes
Free from Dairy and Soy?
Contains soy oil, but is dairy free
Yes
Contains DHA/ARA?
Yes
Yes
Infant and Junior Formulas Available?
Yes
Yes
Flavor options
Infant – Unflavored
Junior – Unflavored, Vanilla, Chocolate, Banana
Infant – Unflavored
Junior – Unflavored, Strawberry, Chocolate, Tropical, and Vanilla
Pros
-Contains DHA/ARA

-Taste is fairly mild, some babies take it just fine

– Comes in different flavors for kids over 1 year of age.

-Approved for WIC & Medicaid
-Non GMO

-Kosher Pareve

-Halal Certified
– Doesn't contain any soy oil
-Contains DHA/ARA

-The Neocate Syneo version contains prebiotics & probiotics

-Neocate Jr comes in different flavors, with and without prebiotics

-Approved for WIC & Medicaid
Cons
-Not Halal or Kosher-Contains soy oil
– Spit up will stain clothes
-Unflavored variety doesn't taste great

-Spit up stains clothes 
Ingredients
See below
See below
Does Insurance Cover it?
Varies from state to state, see below
Varies from state to state, see below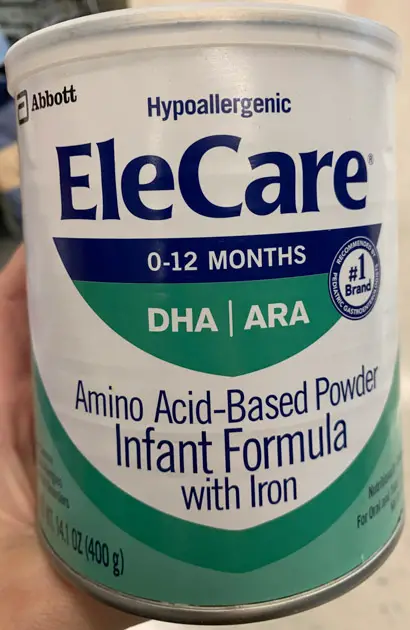 Elecare vs. Elecare Junior
Elecare comes in two different versions for kids of different ages. Elecare Infant is for babies age 0-12 months, and it only comes in one unflavored option. Elecare Junior is made with higher calories per ounce for babies over 1 year of age, and it comes with several flavor options.
For kids on Elecare Junior, flavor options include Unflavored, Vanilla, Chocolate, and Banana. This is helpful because elemental formulas do not taste as good as regular baby formulas. Some kids with severe food allergies can only tolerate the plain version without added flavorings, so if you are dealing with food allergies like FPIES or EOE, I would try the unflavored version first.
The difference in the junior and the infant varieties is the fat and nutritional content. The infant version is more targeted toward the needs of a baby under a year old. It contains DHA/ARA to mimic breast milk, and help with brain development. The Elecare Junior version has a higher percentage of MCT (medium chain triglycerides) to help a growing toddler get enough fat content from the formula. It is also mixed with a higher formula to water ratio so that older babies are able to get more kcals (calories per fluid ounce) in each bottle.
Where Can You Buy Elecare?
Currently, you can buy Elecare online through Amazon or other durable medical websites, or you can buy it locally in some stores. I'm able to find Elecare on the shelves in my local Walmart and several pharmacies like Walgreens and CVS.
Elecare was actually the first Amino Acid based formula in my area to be sold at local stores, and our pediatrician even had samples of Elecare to share with us. In my personal opinion, it used to be the easiest to find of the elemental formulas. However, it's been harder to find Elecare in the last few years because of the 2022 Elecare formula recall.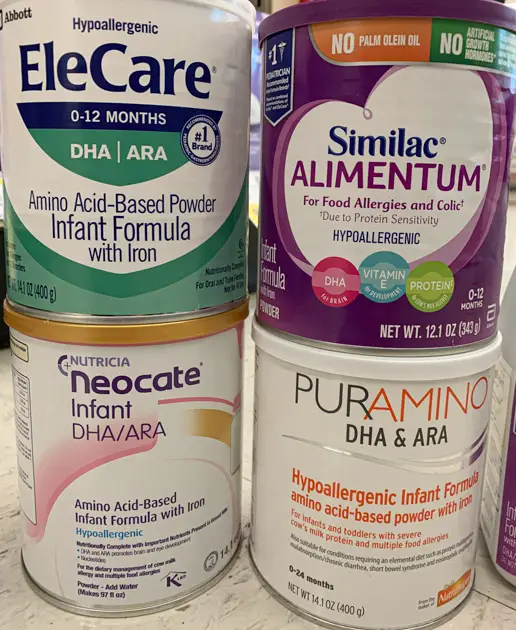 The recall was voluntary in case there was bacteria in some of the cans of formula, and it was issued after 4 babies got sick. The whole production line was shut down, tested, and cleaned, and now Abbott is making Elecare again like normal.
Neocate Infant vs. Neocate Syneo vs. Neocate Junior
Neocate Infant and Neocate Syneo are both specifically made for babies under one year of age. They contain DHA and ARA to mimic the benefits of breastmilk for your baby's brain development. The difference between these two is that Neocate Syneo contains prebiotics and probiotics in a special blend. This is supposed to help a baby's good bacteria levels resemble the gut balance of babies who are breastfed. This helps babies tolerate the formula better and it promotes future gut health.
Neocate Junior is specifically formulated for babies over one year old. It comes in several different flavor options like Tropical, Vanilla, Strawberry, and Chocolate, as well as an unflavored option that's similar to the taste of the infant version. When mixed properly, the Junior formulas are designed to have more calories per fluid ounce (kcals) to support growing babies who need more calories than what they would get with the infant variety.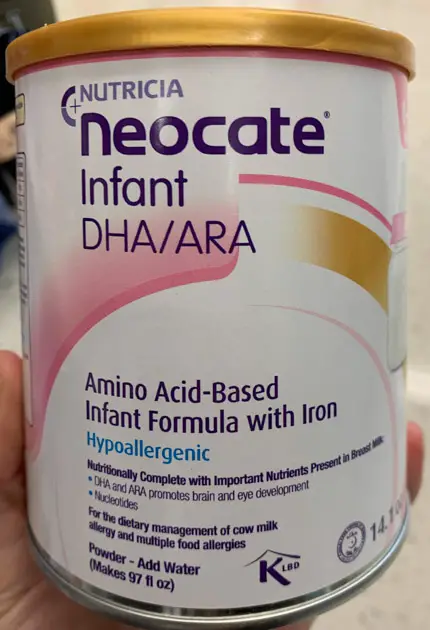 Where Can You Buy Neocate?
Neocate is one of the easier elemental formulas to find on the shelves at local stores near me. I usually get it at CVS or Walgreens if I'm going to get it from a store, but I've recently started seeing it at Walmart as well. However, Neocate is usually cheaper if I purchase it from Amazon as opposed to going to my local pharmacy. As of the time of writing this, one can of Neocate was $46 at the store, and it's $44 per can when you buy a 4 pack on Amazon. That's not a huge difference, but sometimes the Amazon price drops lower (hello Prime Day and Cyber Monday) and when you are buying 10 cans at a time, the small bits add up.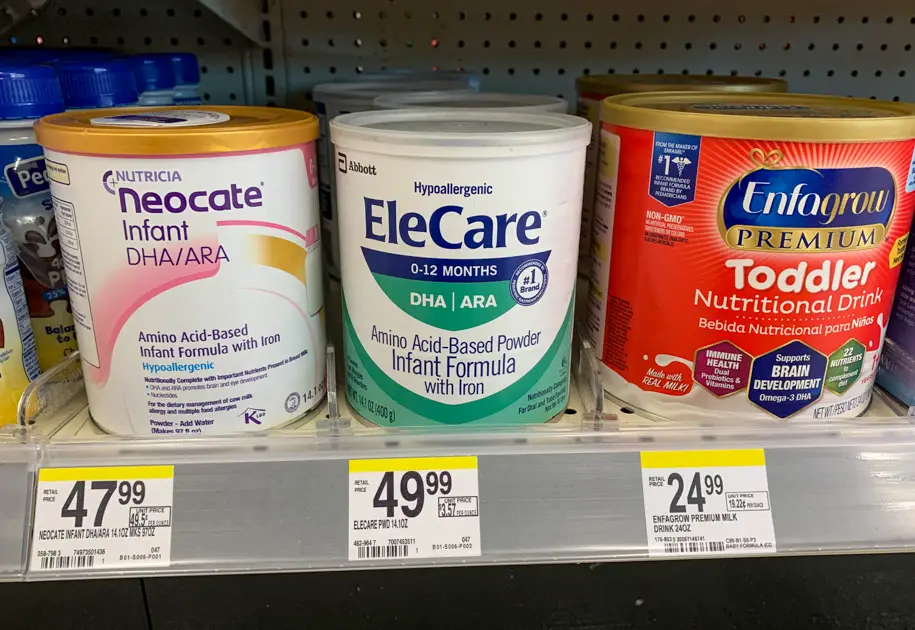 Are There Other Options?
There are other formula options besides just Elecare and Neocate. Alfamino is another option that a lot of families see success with, but the ingredients are a little different. I've got a full post here for all the details on Alfamino vs. Elecare. I also have one here with comparisons between Neocate and Alfamino.
Does Insurance Cover Elecare or Neocate Junior?
Some insurance companies provide coverage for elemental formulas like Elecare or Neocate. It's up to each individual insurance company, and it can also vary from state to state (in the USA). Some states require coverage for formula as an essential benefit for babies with allergies, while other states leave that decision up to the insurance companies.
Many insurance companies limit this benefit to only a small handful of diseases and if your child doesn't have the specific disease on their list, you may not qualify for insurance to cover the cost of the formula. I have a whole post over here that goes more in depth about insurance and what kinds of information you may need if you want help or reimbursement for formula.
However, both Elecare and Neocate are on the list of WIC (Women, Infant, and Children) approved formulas. The WIC program in the USA provides assistance to moms and young children who qualify (based on income). These two formulas are covered under this program, so if your income is low enough that you qualify, you may be able to get financial help purchasing these formulas through your state. Check with your local health department and see if this is offered near you and to see what's required. In most cases you will need a prescription from a doctor before these formulas will be provided.
Abbott also has a program called Pathway Plus that is designed to help you navigate the insurance approval process if needed.
Nutricia has a similar service, called Nutricia Navigator, where they will help you get reimbursement for formula through your insurance provider if you qualify. They also have resources like a sample Letter of Medical Necessity that your doctor can fill out for you to submit to your health insurance. Finally, they have a page where you can see the Nutricia products that qualify for WIC coverage in each state.
Ingredients and Mixing Instructions for Elecare and Neocate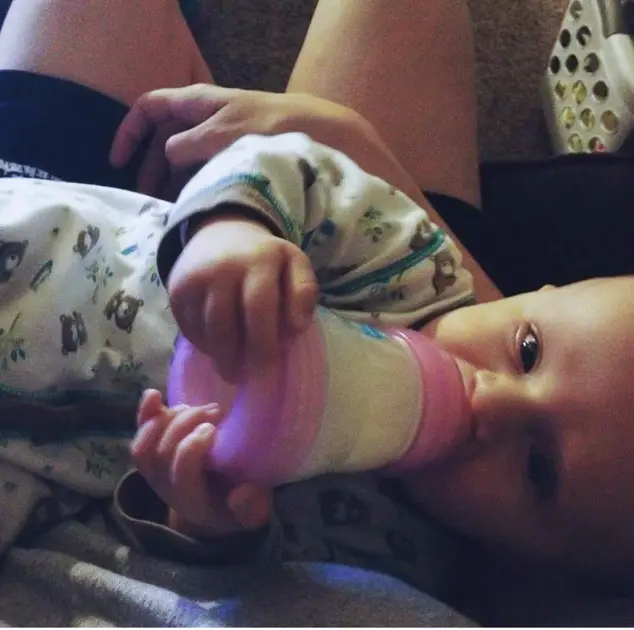 Elecare
Ingredients: 
Corn Syrup Solids (55%), High Oleic Safflower Oil (9%), Medium Chain Triglycerides (8%), Soy Oil (7%), L-Glutamine (2%). Less than 2% of: C. Cohnii Oil, M. Alpina Oil, L-Asparagine, L-Leucine, L-Lysine Acetate, DATEM, Calcium Phosphate, L-Valine, Potassium Phosphate, L-Isoleucine, L-Arginine, L-Phenylalanine, L-Tyrosine, L-Threonine, Potassium Citrate, Sodium Citrate, L-Proline, L-Serine, L-Alanine, Glycine, L-Histidine, L-Methionine, Ascorbic Acid, Magnesium Chloride, Calcium Carbonate, L-Cystine Dihydrochloride, L-Tryptophan, Salt, Choline Chloride, Inositol, Ferrous Sulfate, Taurine, Ascorbyl Palmitate, Zinc Sulfate, dl-Alpha-Tocopheryl Acetate, L-Carnitine, Niacinamide, Calcium Pantothenate, Thiamine Hydrochloride, Copper Sulfate, Manganese Sulfate, Vitamin A Palmitate, Riboflavin, Pyridoxine Hydrochloride, Folic Acid, Beta-Carotene, Biotin, Phylloquinone, Chromium Chloride, Potassium Iodide, Sodium Selenate, Sodium Molybdate, Vitamin D3, and Vitamin B12.
Mixing Instructions for Elecare
Infant: Mix one unpacked, level scoop of powdered formula for each 2 oz of water. Each can will make 95 fl oz when mixed as directed. 
Elecare Jr. Mixing Instructions: Unflavored & Vanilla:
For 5 oz of water, mix 4 unpacked, level scoops of powder. 
For 7.5 oz of water, mix in 6 scoops of powder.
Elecare Jr. Mixing Instructions: Chocolate
For 6 oz water, add 5 Scoops of powder
For 8 oz water, add 7 scoops of powder
Elecare Jr. Mixing Instructions: Banana
For 6 oz water, add 5 Scoops of powder
For 7 oz water, add 6 scoops of powder
Neocate
Ingredients:
Corn Syrup Solids (54%), Refined Vegetable Oil (Medium Chain Triglycerides (8%), High Oleic Sunflower Oil (6%), Sunflower Oil (5%), Canola Oil (4%)), and less than 2% of each of the following: Calcium Phosphate Dibasic, Dipotassium Phosphate, Tricalcium Phosphate, Calcium Carbonate, Calcium Glycerophosphate, L-Arginine L-Aspartate, L-Leucine, Tripotassium Citrate, L-Lysine Acetate, L-Glutamine, L-Proline, Citric Acid Esters of Mono- and Diglycerides (CITREM), L-Valine, Glycine, L-Isoleucine, L-Threonine, L-Phenylalanine, L-Tyrosine, L-Serine, L-Histidine, L-Alanine, Sodium Chloride, L-Cystine, Magnesium Chloride, L-Tryptophan, Choline Bitartrate, L-Methionine, Tricalcium Citrate, Magnesium L-Aspartate, M. alpina Oil*, C. cohnii Oil**, M-Inositol, L-Ascorbic Acid, Taurine, Ferrous Sulfate, Zinc Sulfate, L-Carnitine, Uridine 5'-Monophosphate Disodium Salt, Cytidine 5'-Monophosphate, Niacinamide, Inosine 5'-Monophosphate Disodium Salt, Adenosine 5'-Monophosphate, Calcium D-Pantothenate, Guanosine 5'-Monophosphate Disodium Salt, DL-Alpha Tocopheryl Acetate, Ascorbyl Palmitate, Manganese Sulfate, Thiamin Chloride Hydrochloride, Pyridoxine Hydrochloride, Cupric Sulfate, Riboflavin, Vitamin A Acetate, DL-Alpha-Tocopherol, Potassium Iodide, Mixed Tocopherols, Folic Acid, Chromium Chloride, Phylloquinone, Sodium Selenite, Sodium Molybdate, D-Biotin, Vitamin D3, Cyanocobalamin.
*A source of Arachidonic Acid (ARA) **A source of Docosahexaenoic Acid (DHA)
Ingredients can always change. Please see Nutricia's website for most up to date ingredients.
Mixing Instructions for Neocate
Mix one unpacked, level scoop for each fl oz of water. So, for a 6 oz bottle, you will need 6 level scoops of powder. Each can will make 97 fl oz when mixed as directed.