Baby formula is expensive, and with a hungry baby, it doesn't last long. Many people wonder if insurance will help with some of those expenses. Health insurance does not typically cover regular soy or milk-based formula, but there are other programs such as WIC that can help with those costs. However, if there is a medical need for alternative formulas, such as elemental or amino acid-based formulas (like Neocate or Elecare) some insurance plans may help pay for the formula. To get coverage for hypoallergenic formulas like these, you'll need a prescription from a doctor, and you will need to check with your insurance company to make sure you meet their guidelines for coverage. In the USA, some states require coverage for formula as an essential benefit for babies with allergies or certain health conditions, and other states leave that decision up to the insurance companies. In the states that don't require coverage, many insurance companies limit formula benefits to a small handful of diseases. If your child doesn't have the specific disease on their list, you may not qualify for insurance to cover the cost of the formula. However, even if you don't qualify for coverage, keep reading for some other ways you can help offset the costs of formula.  
Does Your State Require Insurance to Cover Formula Costs?
There are several states that already require insurance companies to cover baby formula for certain children. This is a work in progress, and legislation is in the works for many of the states that aren't on this list yet.
You can see a map of all the states that require formula to be covered, along with a list of what each state requires, here.
There is usually still a maximum benefit for each insured – for example, in Arizona, the insurance company will pay 75% of the cost of formula up to a maximum benefit of $20,000. In Rhode Island, the maximum benefit is $2,500 per year for each covered member with a medical need for the formula.
Most states have a list of the diseases that qualify a child for this coverage, you can click the link above and find your state on the map to check your coverage.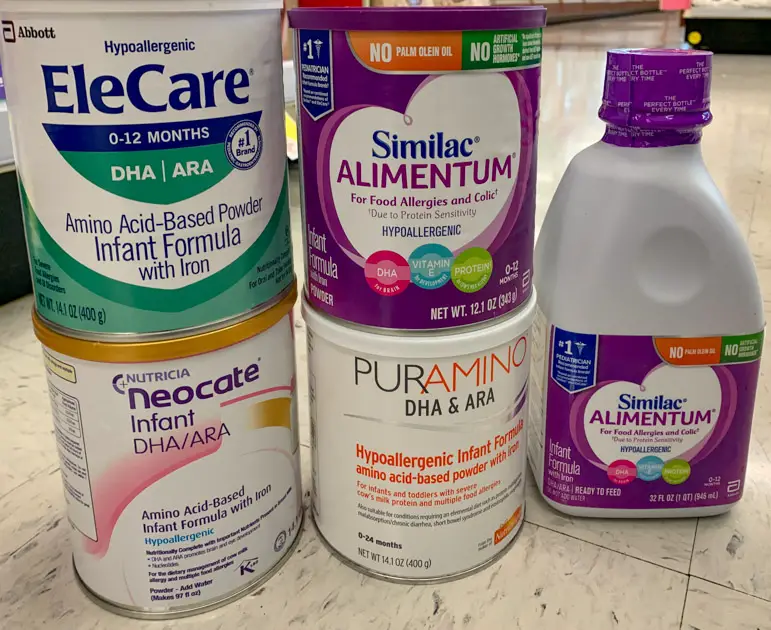 How to Qualify for Insurance Coverage for Baby Formula
The states that require insurance to cover baby formula also have requirements to make sure they are helping kids with a legitimate need for the formula. There are several things you will need to do if you want insurance to help with the costs. 
First of all, check your state's list of diseases or conditions that are covered using the link above. If your state only covers eosinophilic diseases and your child has FPIES (food protein-induced enterocolitis) or a diagnosis of CMPA, (cow's milk protein allergy) then it may not be covered. 

Next, you will need a prescription for the formula from a doctor or a dietician or a nutritionist. Again, check the list linked above for your state's requirements, because some states require the doctor that writes the prescription to be board-certified, while other states require them to be licensed according to their state licensing guidelines.
 
Once you have a prescription for the formula, you will need to contact your insurance company and find out which pharmacy or durable medical equipment provider you need to use in order to get the formula. *If you need help with this, check out the list below of assistance hotlines for each formula manufacturer, they can often help you navigate the insurance piece of this.

*Not all pharmacies can order the formula for you, and if insurance is going to pay for part of it, you can't just order it online and get reimbursed. Your insurance company should be able to give you the name and number for any DME (durable medical equipment) providers that can order the formula for you and ship it to you, and you can also check around at your local pharmacies that sell medical equipment. If you have a local compounding pharmacy, they may be able to help you with this also.
My Insurance Doesn't Cover Elemental Formula, What Do I Do?
When I found out that our insurance wouldn't cover our elemental, hypoallergenic formula, I cried. For a few days, I just felt totally hopeless. I had TWO kids under a year old, and both were on elemental formula, which as you already know, is not cheap. We couldn't afford it. I knew we had to find another option, and after some research, I did actually find a few alternatives. Keep reading for some helpful tips if your insurance doesn't cover your formula.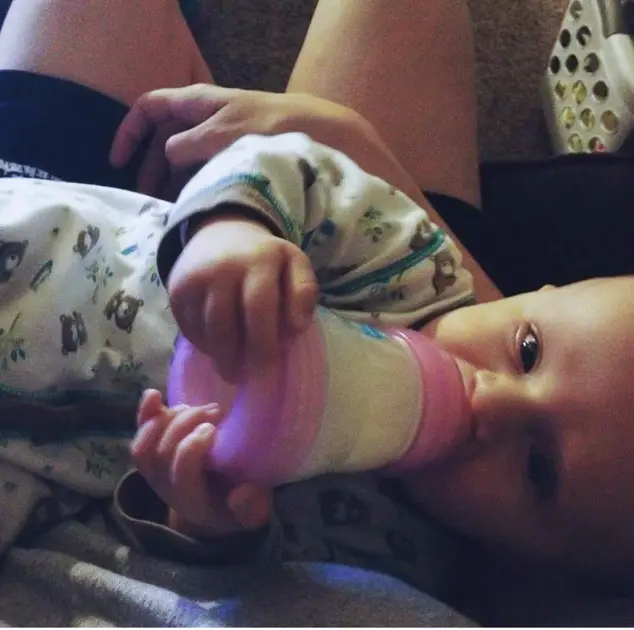 *Check with your state's Medicaid program or the Federal WIC program
New moms and babies under five years old can qualify for WIC (women, infants, and children) which gives food stamps if the parents' income is below a certain level. Our income was slightly over the limit because we were both working. But, I added up what we were paying for allergy-friendly baby formula plus daycare, and it was more than I was making at my job. I realized that if I wasn't working, we would qualify for extra help with the formula and it would cut out the daycare expenses.  It was an added blessing that I was able to stay home with our kids for a while, and it helped me control the amount of accidental food exposures my kids were having before at daycare. 
For babies under six months, the food stamp benefit covers a certain number of cans of formula each month. I found out that with a doctor's prescription, the regular formulas could be substituted for the amino acid-based formula we needed (at the time it was Neocate for us). 
I also learned that kids over 6 months were supposed to get less money for formula and more money for fresh fruits and vegetables, as well as things like infant cereal and cow's milk. Again, they allowed us to use a doctor's note stating that our kids couldn't eat solid foods yet due to severe allergies, and we were allowed to keep using the full formula benefit. This may be different in different states though, so check with your local health department to see if you qualify.
You can check your eligibility here: http://www.fns.usda.gov/wic
You can also check your state's medicaid eligibility here, because some states cover elemental formula through medicaid as well, although this is more rare. http://medicaid.gov/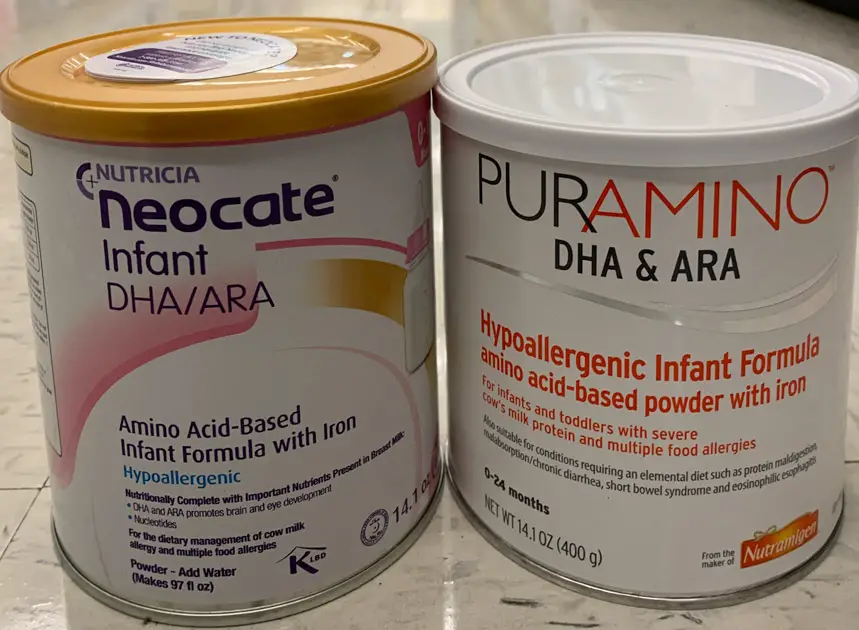 *Check into the Insurance assistance programs from your formula manufacturer
Many of the formula companies that make amino acid-based formulas have a program to help parents navigate the insurance approval process. They can help you figure out if insurance covers infant formula in your state, and they can help you go through the approval process with your insurance company. If you are denied, they can help you appeal the decision if necessary. 
The Neocate insurance helpline (called Nutricia Navigator) was so valuable to me when we were walking through the early days of this journey. You can check out their website here http://www.nutricia-na.com/NutriciaNavigator/  or you can call 1-800-365-7354 to get a representative who can help. They will work with you to coordinate phone calls to your insurance, help you file insurance claims, and work with you to get coverage approved whenever possible. 
The Elecare helpline is very similar to the Neocate one listed above. They can help you navigate the world of insurance and try to get approval if coverage is required in your area. They can help with getting the durable medical provider lined up if you are approved, so that the formula is delivered to you or to your local pharmacy for pick up. If your insurance doesn't cover the formula, they can help connect you with other resources that may assist with the costs. 
To get started with Pathway Plus, you'll need to go to their website and fill out the form and send it to them, or you can call them at 1-855-217-0698. Pathway Plus Reimbursement Support (pathwayreimbursement.com)
The Alfamino helpline is through the manufacturer, Nestle, and it's called Formula4Success. It works the same way that the others mentioned above does. Their website is here (Reimbursement & Support | Alfamino®), or you can call them at 1-844-283-0365.
PurAmino is made by Enfamil, the same makers of Nutramigen. They have their own support line you can call at 1-800-222-9123, or you can see their website here: (Reimbursement and Support | Enfamil)
*Where to Buy Formula to Keep Costs Down
One of the largest formula and durable medical exchange websites is Oley. You have to join their site to be able to share or receive products, but you can purchase formula from people who have extra using their site. You can also exchange other durable medical feeding supplies, such as feeding bags and tubing for g-tubes. The way their site works is by matching donors and buyers together, so there's not a list of postings you can look through. You will submit a request for the product you want to buy, and the Oley employees go through their database of sellers and match you with someone selling the item you need.
Facebook Buy and Sell Groups
One of the most helpful things I did was join a facebook group with other moms whose kids had the same condition (FPIES) that mine have. I was able to get support, and occasionally someone would post that they had a few extra cans to send out because their child had outgrown their allergy. We were able to snag quite a few cans of formula for just the cost of shipping, or for a discounted cost. There are buy and sell groups on Facebook as well for elemental formulas, but the same disclaimer applies here as it does with Ebay. You are buying from a random person on these sites, and it's really easy for someone to take your money and never ship anything at all, or to send you cans that are expired or already opened. Do your best research before you buy (see how long that person has been a member of the group, see if they've made posts before and what kind of comments those posts have from other members). Finally, if you are going to send them money, use PayPal or another trusted source that will let you file a claim against the person if you don't get the product you've paid for. Don't send the money through Facebook or as a "gift to family or friends" through PayPal if you are buying from a stranger. If you send money that way through PayPal, you can't turn in a claim later if you need to. 
You can also always purchase infant formula from online retailers like ebay or amazon. I would be leery of buying off ebay, because it's easier to get scammed or to be sent empty formula cans if you buy from a random person. You could also get formula cans that are expired or that have already been opened. Use caution and always request a picture of the product (preferably with a piece of paper with the current date on it in the photo with the formula) before you pay for shipping. I know how hard it is to be down to the last can of formula and have to wait for a new order to come in the mail, only to find out that you've been sent the wrong kind or that the cans are expired. 
We got help from WIC for a while for my kids, but there were still two years where we paid for the cost of formula out of pocket because our state doesn't require coverage. During that time, I learned to shop smart by watching for amazon sales and by keeping an eye on Nutricia's website for deals there (there aren't usually sales but sometimes they will offer free shipping, etc.). I have links below so you can check the updated prices on Amazon for each of these elemental formulas (these are affiliate links and I may earn commission at no extra cost to you if you make a purchase).
Neocate Infant (4 Pack):
Elecare Infant (4 Pack):
Puramino Infant (4 Pack)
Alfamino Infant (6 Pack)
Alimentum (not amino acid-based, but the ready to feed version is corn free for corn allergic kiddos)
*Join the Fight for Insurance Covered Formula in Your State
If your state happens to be one that doesn't mandate insurance companies to pay for prescription formula, join the cause and help fight for your child's voice to be heard. There are non-profit organizations who are fighting for legislation that will cover formula even as we speak. Those organizations are always in need of families who can come and speak before lawmakers about their children, and about the struggle we face when trying to afford elemental formulas for our children. If you have a passion to make a difference and are willing to spend some time sharing your story, you can help pave the way for families like you to get help with their formula costs. Check out the link to Oley if you want to know more.
I hope this gives you a starting point, or maybe just points you in the right direction on who to call for help with formula costs. I know they are high and it's hard to afford it if you have to pay for it out of pocket. Don't give up though, you are the best fighter for your child. Know that even though it may feel overwhelming right now, it gets easier as you get used to managing and navigating the unknowns.